Cambridge Islamic College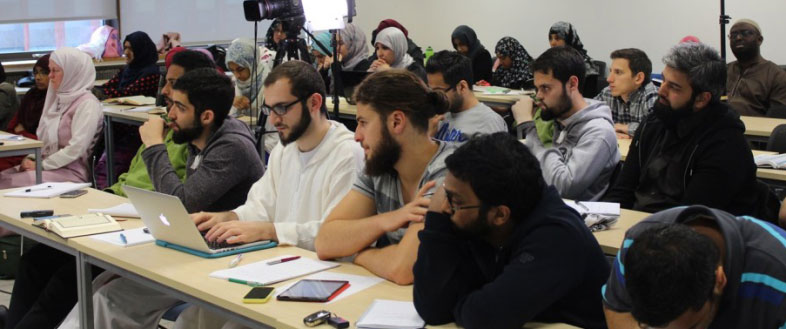 Our Mission
Cambridge Islamic College's mission is to produce a generation of independent Islamic scholars and thinkers who are at the same time working professionals contributing to the wider British society. Cambridge Islamic College is committed to bridging the disconnect between mainstream secular education and specialised Islamic studies. It puts particular emphasis on attracting bright, capable students who are already professionals or on the way to becoming professionals. It expects its graduates to be active as role models in their communities, respected both for their knowledge of the religion and for the flexibility, realism, and independence of mind with which they apply it. In this way they will inspire others to combine the practice of Islam with a positive concern to use their personal and professional skills for the benefit of the whole society.
Cambridge Islamic College takes its students through a rigorous and critical study of the classical Islamic sciences and their sub-disciplines. No doubt, some students will go on to become specialists in Islamic studies and make that their profession. But that is not the primary aim of the College. Alongside the Islamic sciences, the contemporary challenges facing the world and Muslims in particular, are a core focus of the curriculum. Students are encouraged to develop an informed understanding of the shared and different values among Muslims and non-Muslims, and to cultivate the essentially religious virtue of respect and tolerance of others. That virtue is also the basis of civility and good citizenship, and the foundation of a cohesive society that embraces and enjoys its diversity.
Our story so far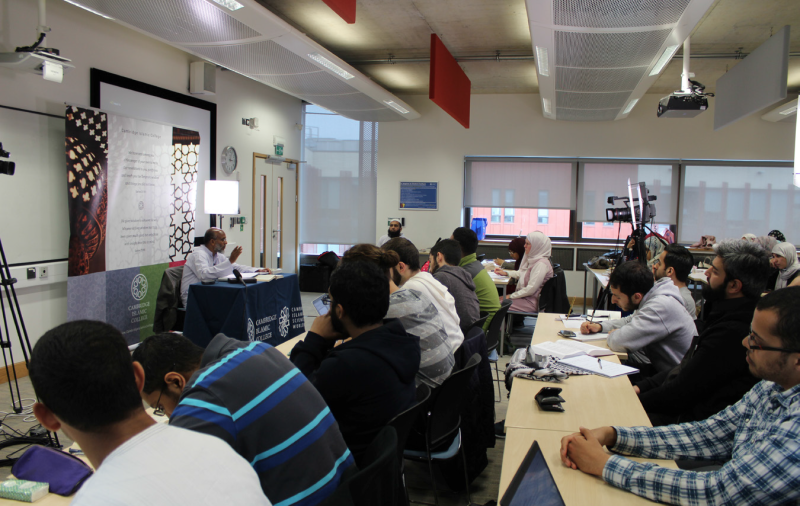 The idea and vision of the Cambridge Islamic College grew out of the Muslim Education and Outreach Cambridge, a community-based organisation set up to serve the city's diverse population. Sensing a dearth in opportunities for both Muslims and non-Muslims to learn about Islam, MEOC began to serve the wider community through a variety of platforms, including information stalls, events and publications. In 2011, MEOC ran a seven-day exhibition at the Cambridge Central Library, with interactive displays showcasing Islamic teachings and history as well as exploring Muslim contribution to global cultural and artistic heritage. A success, with over 500 attendees, the exhibition has been re-run in subsequent years, most recently as part of the Cambridge Festival of Ideas in 2015.
Responding to the high demand for Islamic education, the organisation began running regular classes, courses and lectures through its subsidiary, Cambridge Islamic Sciences Seminars. Aiming to provide students with an introduction to the various Islamic sciences in an accessible yet academic setting, its principal programmes were those delivered by Shaykh Akram Nadwi. Between October 2012 and the end of the following year, classes were primarily held in Cambridge. Soon, classes were rolled out through a virtual learning environment, allowing students around the world to follow them online. The flagship Juz Tabarak series, which explored the oft-recited chapters in the Qur'an and which became the subject of Carla Power's Pulitzer Prize Finalist book If the Oceans were Ink, was one such example.
Subsequently, course seminars were held in a number of cities across the UK and Ireland, including London, Leeds, Manchester, Birmingham, Bristol, Derby, Leicester, Peterborough, Luton, Blackburn, Dewsbury and Dublin.  Out of the success of these courses came the vision for a fully fledged College with a campus, staff and full time courses. In August 2013. Cambridge Islamic College was born.
Planning for the College's future began in earnest. In anticipation of its opening, a number of programmes were started, to provide future students with a foundation in the Islamic sciences. Delivered in an accessible way and allowing students to acquire practical lessons, different courses explored a variety of disciplines, including lives of the Prophets, usul al fiqh and usul at tafsir. A popular two-year Classical Islamic Texts programme, providing an in-depth introduction to canonical texts in the Islamic scholarly tradition, was followed by another two-year programme, the Diploma in Arabic and Islamic Studies (DAIS), which aimed to equip students with the relevant skills for the College's flagship full-time degree programme.
In 2016, with the support of our loyal Donors, Cambridge Islamic College acquired it's first campus, an old Methodist church which we began renovating to make it suitable for our purposes. In 2018 the building was ready and we launched our first ever residential course - The Advanced Alimiyyah degree in Arabic and Islamic studies. After 5 years of hard work and planning, the founders of the College had finally realised their vision.

In addition to our residential courses, the College maintains it's  worldwide reach. To date, it has over 2,000 students, based in over 180 cities across 25 countries.